We believe in a gender-free pricing structure where services are charged based on timing, hair length, and stylist level.
We take pride in serving everyone and all hair types and especially love serving the LGBTQIA+ community and providing a safe environment for all of our guests to meet their hair goals.
Haircut Pricing: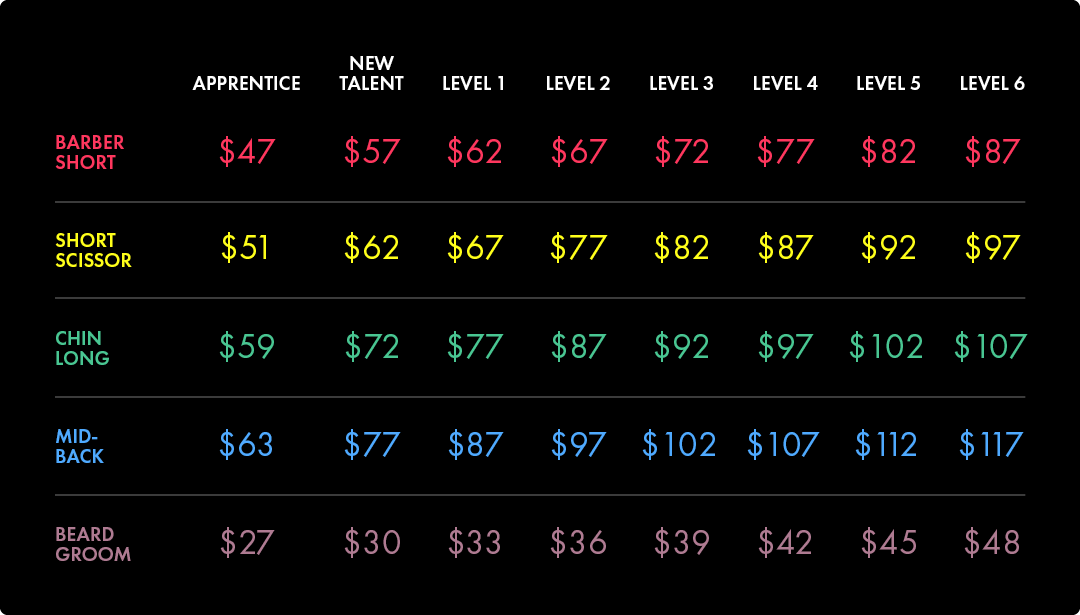 Minimum starting prices are listed above. Final prices will be quoted by your stylist upon request after a thorough consultation.
Service Definitions:
Barber Short: Clipper cut sides and very short top.
Short Scissor: 6 weeks maintenance, short on top, scissor cut cropped or clipper cut sides.
Chin-Long: 8 weeks maintenance, over the ears or to the shoulder, and mullet styles.
Mid-Back: 10 weeks maintenance, past the shoulders in length. If hair is past mid-back, an additional service fee of $23 for timing will be added.
Gift Cards:
Give the gift of great hair! You can buy your own Logan Parlor gift card right here through our online booking portal. Here's how:

1. Log into your account below (or sign up for an account)
2. At the top, click "Shopping" and then "Gift Cards"
3. Select your $ amount and fill out the form

4. Your digital gift card is ready!

Appointments:
Your reservation time is very important to us and is reserved especially for you. Our artists' income is based on commission; last minute cancellations or reschedules result in a loss of income for our artists and small business.
We require a 48 hour notice from your appointment time if you so choose to cancel or reschedule.
Missed appointments, cancellations, or rescheduling less than 48 hours in advance will result in a 50% charge of your total services to the credit card on file. To avoid fees, some appointments can be taken by friends or family for similar services.
Please call us to confirm, as hair length and density can affect the eligibility of your request to offer your appointment to friends and family.
Please note: By scheduling an appointment and/or visiting Logan Parlor you are consenting to our cancellation policy and possibly being filmed/photographed for promotional purposes. Please let a member of our team know if you do not wish to appear in photos or video. To schedule color services with our team, you must first schedule a free consultation, virtual or online. After the consult, we can quote and reserve your color services. For any questions you may have please call 872-206-2682 or email us at loganparlor@gmail.com.